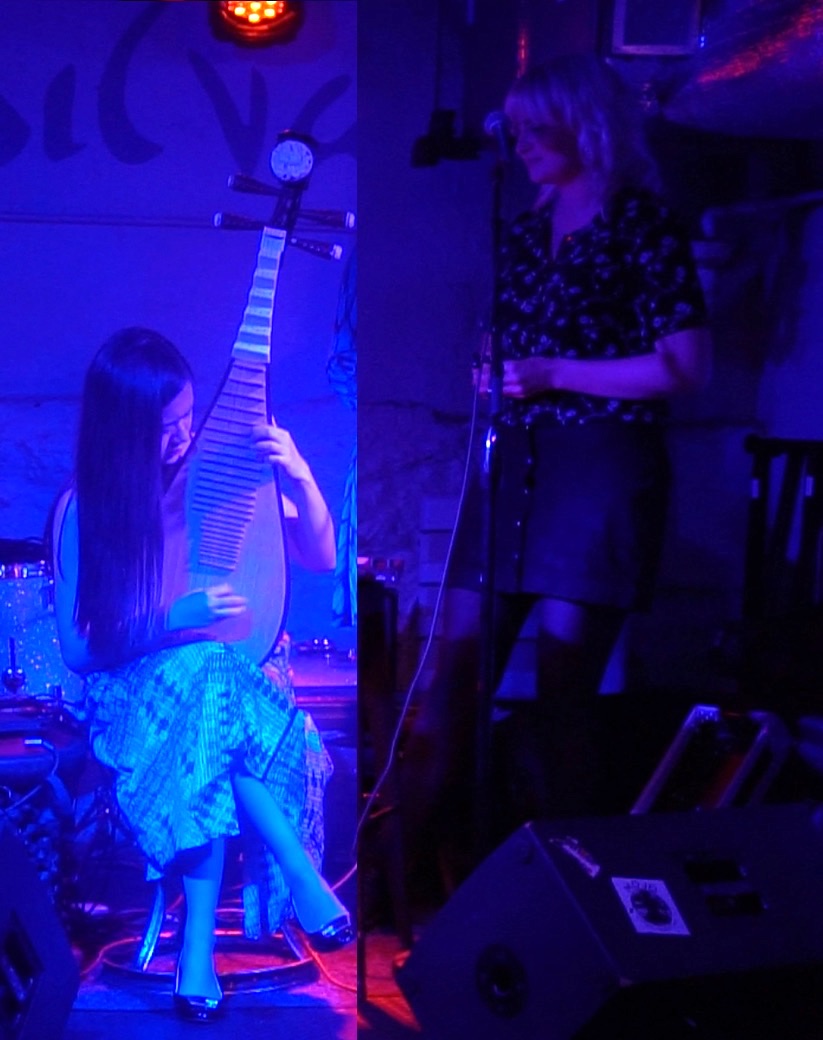 APARTMENT D + SFSOUND:CARTILAGE


Pro Arts and sfSound present an evening of intersections: between acoustic and electronic music, composition and improvisation, and traditional instrumentation and repurposed and newly invented sound sources.

APARTMENT D is an electro-improv duo that explores sound and space by combining live electronic processing and experimental performance of voice and pipa during improvisation. Ingibjörg Friðriksdóttir brings a background of both experimental electronic music and vocal training from Iceland. Sophia Shen combines her traditional Chinese pipa playing techniques with her new approaches to the instrument. The unique soundscape and the emotional depth that the duo creates are a result of an exchange and convergence from two very contrasting musical backgrounds and cultures.

Born in Zhangzhou, a small city in southeast China, Sophia Shen is a composer, sound artist, pipa performer/ improviser and pianist who believes in the subjective, evocative, conceptual and ineffable nature of music and sound. She makes intangible connections with performers and listeners by creating music that evokes memory and imagination. She is interested in bridging the divide between cultures by using instruments to dissemble and synthesize new sounds. Sophia is currently based in the San Francisco Bay Area. She holds an MFA in Electronic Music and Recording Media from Mills College where she also studied composition and improvisation. She received a BA degree in Music with High Distinction and a BA degree in German from the University of Virginia.

Ingibjörg Friðriksdóttir (1989) is an Icelandic composer, vocal improviser, and a sound-artist based in Oakland/California and Reykjavík/Iceland. She holds an MFA Electronic Composition and Recording Media from Mills College and BA in Composition from The Icelandic Academy of the Arts. Her compositions explore programming in experimental electronic music, with particular experience using the programming language Max/MSP. She also includes includes real-time processing and synthesis, as well as analog techniques, recording and synthesisers. Before studying composition Ingibjörg studied for an ABRSMdip Certificate from The Reykjavik Academy of Singing and Vocal Arts. She seeks to use her voice in her compositions, and expand the vocal sound-source by exploring different vocal techniques and vocal processes. Her compositions have been performed widely in Europe and America, and have taken place within festivals like Cycle Music and Art Festival, Berkeley Arts Festival, Dark Music Days and Nordic Music Days.


sfSound members Kyle Bruckmann, Christopher Burns, and Matt Ingalls present the latest iteration of their project CARTILAGE: a heavily-amplified journey through microscopic sound worlds. Kyle, Chris, and Matt tickle, strike, flex, and rattle a variety of found objects and custom instruments, turning motion into music. Idiosyncratic resonators, wired with contact microphones, supply complex architectures of resonance, and amplify micro-acoustic events to concert-hall scale. Each musician brings a distinctive toolbox of analog and digital electronics, sharpening the rhythmic and timbral qualities of the performance, along with their personal sensibilities as improvisers, honed through decades of individual and shared experience.