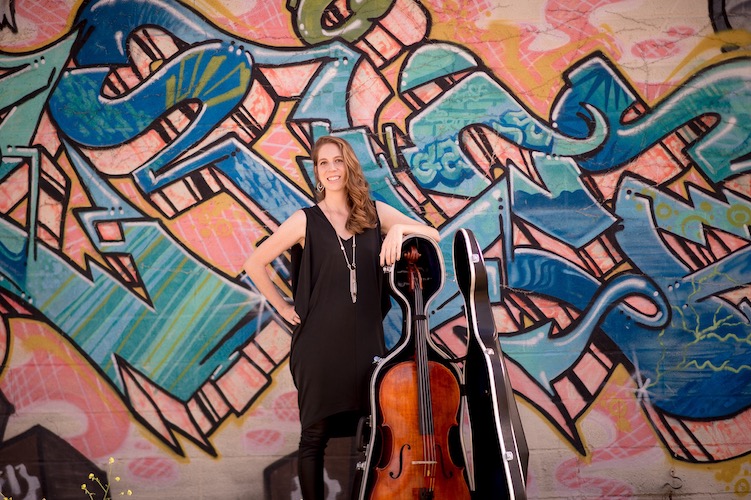 ASHLEY WALTERS


Cellist ASHLEY WALTERS has been described as performing "…with the kind of brilliance that beckons a major new performer on the new music scene" (Mark Swed,LA Times). As a solo artist, Ashley has been the dedicatee of numerous works by composers such as Nicholas Deyoe, Andrew McIntosh, Lewis Nielson, Daniel Rothman, Wadada Leo Smith, and Andrew Tholl. She is also known for her performances of Sequenza XIV by Luciano Berio, Plainsound-Litany by Wolfgang von Schweinitz, and Invisibility by Liza Lim. She specializes in performing microtonal works and repertoire with extended techniques and alternate tunings. Ashley has appeared as a soloist on concert series such as Green Umbrella, wasteLAnd music, San Diego New Music, Beyond Baroque, nief-norf Summer Music Festival, Santa Fe Creative Dialogue, at the Hammer Museum, the Wulf, and for dance performances in San Diego, Los Angeles, and Pittsburgh. Her debut album will soon be released featuring four works written for her in addition to works by Berio and Schweinitz. Recently, Ashley premiered a cello concerto by long-time collaborator Nicholas Deyoe and will record the piece in 2017. Following the premiere performance, Paul Muller of Sequenza 21 wrote, "The swirling texture and often agitated phrasing was accurately and confidently played, a showcase for the virtuosity that Ms. Walters dependably brings to all her performances." This sheason, she will perform Liza Lim's Invisibility at Disney Hall as well as solo recitals in Los Angeles, San Francisco, and New York.

A frequent collaborator with legendary trumpeter, improviser, and composer, Wadada Leo Smith, Ashley joined his Golden Quintet in 2016 and recorded his America's National Parks the same year. "The band Wadada enlisted for this project was an expansion of his dream-team of veterans known as the Golden Quartet (Anthony Davis on piano, John Lindberg on bass, Pheeroan akLaff on drums), with the acquisition of the young cellist Ashley Walters, who adds chamberesque texture and diversified colors to the organic divagations." (Jazz Trail) About the album, Dan McClenaghan of All About Jazz said "…and Ashley Walters' cello paints the rich, beautiful hues that subtly enhance the entire proceeding – the most auspicious addition to a jazz ensemble since Chico Hamilton brought the instrument into his chamber groups in the late 1950's." Ashley has toured Smith's Pulitzer Prize-nominated Ten Freedom Summers to Austria, Brazil, Chicago, D.C., and New York. She has also twice appeared as a guest with Smith's Golden Quartet performing in Istanbul and Paris and she has performed with Smith's Silver Orchestra, for which Robert Bush of All About Jazz said,"…and cellist Ashley Walters contributions were consistently compelling."

Ashley is a founding member of the Formalist Quartet, now in its tenth season, which has premiered a vast repertoire of works and is known for its audacious programming. Soon, the quartet will release a recording of Christian Wolff's string quartets, recorded in collaboration with the composer. The Formalist Quartet has held residencies at Princeton, Stanford, UC Santa Barbara, CalArts, and Oberlin. Called "superb" and "fabulous" by the LA Times, the group has appeared in concert in Iceland, Austria, Italy, Germany, and throughout the United States.

In the summer of 2013, Ashley joined the faculty of the nief-norf Summer Festival, a multi-tiered contemporary music organization devoted to fostering creative collaboration among musical performers, composers, and scholars. Each summer, she joins colleagues from throughout the U.S. to perform, teach chamber music, and conduct ensembles. In November 2014, she appeared with the nief-norf project at a multi-day festival at Northern Illinois University. Ashley's recordings can be heard on Cold Blue Records, Darla Records, Populist Records, Tzadik Records, Cunieform, Music from Stanford: 541, Atlantic Records, Universal Motown, and as the cellist on the DVD documentary Jews and Baseball: An American Love Story.

Ashley currently serves as faculty at Moorpark College and Ventura College. She has served on the faculty of the California State Summer School (Valencia, CA), the Academy of Creative Education (North Hollywood, CA), the Harmony Project (Hollywood, CA), and as an Associate-in-Music at UCSD.

A native of Oak Hill, VA, Dr. Walters holds degrees from the University of California, San Diego (where she was twice awarded for excellence in teaching for her work with undergraduate students), the California Institute of the Arts, and Vanderbilt University (Magna Cum Laude).