Monday, October 2, 2006, 8 pm
ODC Theater
3153 17th Street (@ Shotwell)
admission $12 ($7 student/senior)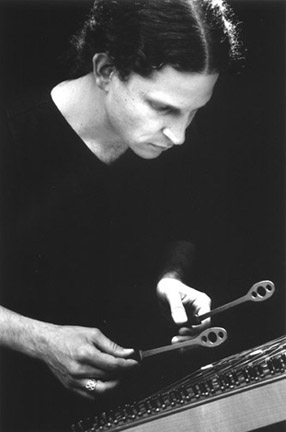 Our emerging composer-performer series continues as sfSoundGroup premieres a new set-length work, Periodicity Piece #6, by composer and multi-instrumentalist Dan Joseph. Originally created as a multi-channel installation and presented in April 2005 at the Diapason Gallery for Sound in New York City, the work employs a cyclical compositional strategy that explores our musical perception of time. This realization will run approximately 50 minutes and will include the instrumentalists of the sfSoundGroup, pre-recorded sounds, live digital processing and the composer engineering a live multi-channel mix.

Kyle Bruckmann continues the theme of instruments and electronics as he performs Mary Jane Leach's Xantippe's Rebuke (1993), a plangent work for oboe and multi-tracked tape.

sfSoundGroup saxophonist John Ingle and clarinetist Matt Ingalls present a new duet that draws heavily on improvisation.

We also dedicate the concert to the memory of James Tenney (1934-2006) with a performance of Critical Band (1988/2000) for 16 or more sustaining instruments.
MUSICIANS
Diane Grubbe, flute
Maryclare Brzytwa, flute
Kyle Bruckmann, oboe
Rob Bailis, clarinet
Matt Ingalls, clarinet
Jacob Lindsay, clarinet
Chris Jones, piano/bassoon
John Ingle, saxophone
Liz Allbee, trumpet
Tom Dambly, trumpet
Tom Djll, trumpet
Andrew Strain, trombone
Graeme Jennings, violin
Erik Ulman, violin
Heather Gardner, viola
Monica Scott, cello
George Cremaschi, bass
Hadley McCarroll, voice


main | next | concerts | musicians | history | sponsors | contact
Copyright © 2003-2006 sfSoundSeries. All rights reserved.