NATALIA BADZIAK
MOE STAIANO ENSEMBLE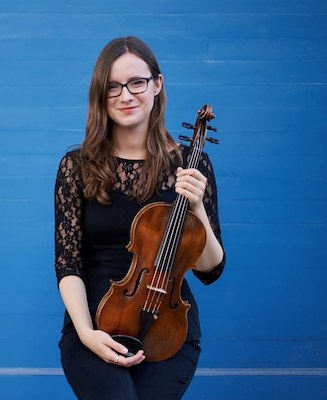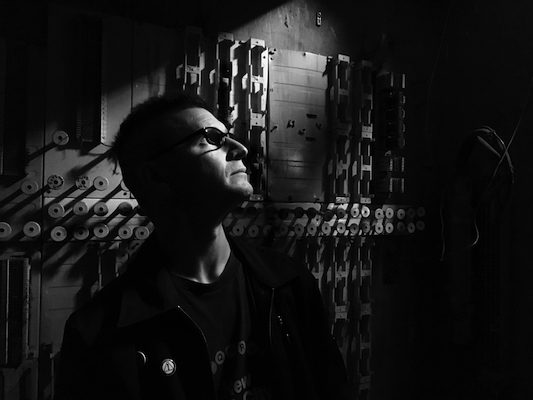 NATALIA BADZIAK performs three contemporary works for solo viola
Giacinto Scelsi - Manto I
John Kennedy - The Journey
Andrew Norman - Sabina

MOE STAIANO guides an ensemble of musicians in a composition written specially to be performed at Mosswood Chapel. Musicians will be distributed among its hallways and rooms surrounding the main performance space. The seated audience will experience the work acoustically "mixed and mastered" in real-time as the instrumentalists roam throughout the building. This will be Moe's first performance of his ensemble since 2018. His one online guided improv performance from 2020 doesn't count!


NATALIA BADZIAK is a graduate of the Oberlin College and Conservatory of Music, where she completed Bachelor's degrees in viola performance and comparative literature, and the San Francisco Conservatory of Music, where she completed her Master's degree. Natalia has performed in many music festivals including the International Ensemble Modern Academy and Spoleto Festival USA, as well as in ensembles such the San Francisco Contemporary Players and in a piano quintet through Lincoln Center Stage. She performs as a substitute with the Milwaukee Symphony Orchestra. An avid new music performer, Natalia has worked with members of the Ensemble Modern and Klangforum Wien, is a Lucerne Festival Fellow, and has attended the Darmstadt Summer Music Courses. She has commissioned several new works for the viola that involve experimental techniques.

MOE STAIANO is a musician and composer of new music works and angular rock music. Since 1995, he has been at the forefront of the Bay Area improvisation scene, playing drums and percussion through innovative solo shows that can feature prepared drum kit, found objects, audio looping and the inventive use of a "percussion guitar." All this is woven in with a performance art aspect that gets the audience involved and wondering what might happen next. He will play (or smash into pieces) just about anything he can get his hands on, and somehow make a compelling musical statement out of it. Moe's compositional work has included music for large ensembles, a piece for two bass clarinets, and a work for percussion quartet. He has also conducted aleatoric improvisatory ensembles, using a glossary of handcues as well as composed sections cued in the moment. As conductor and composer for the Moe Staiano Ensemble, (formerly Moekestra!), he has composed pieces that can include over 30 musicians playing instruments ranging from violins, clarinets and cellos to drum kits, wine glasses, sirens, oscillators and electric guitars. Moe Staiano Ensemble performances are high-energy, electrifying experiences that create unique and intriguing soundscapes.

Moe is currently the leader and frontman for Surplus 1980, a post-punk band that continually evolves its percussive, no-wave progressive musical exploration. Surplus 1980 features Moe's bracing guitar and wry wordplay and a wide palette of timbres from the multi-instrumentalist members of the group. They have released three albums, 2011's "Relapse In Response," 2014's mini-album "Arterial Ends Here," and 2019's "Pigeon Obstacle Course." Additionally, Surplus 1980 appears on one side of the shared 7" record, "International Static Split," with Dutch band King Champion Sounds. They have a forthcoming album in the works for 2022 and a single with G.W. Sok. In 2018, a collaboration with vocalist G.W. Sok (Formerly with The Ex) led to the creation of a 14-piece expanded version of the band--the Surplus 1980 Collectiv Ensembl. This unique group recorded "Forget All This," an album featuring Sok's poetry set to Moe's music, which was released in 2019. Later that year, the group, including Sok, brought this album to the stage in full for a pair of shows in the San Francisco Bay Area. From 1999-2004, Moe was a percussionist for metal progsters Sleepytime Gorilla Museum (and appeared occasionally for live guest performances afterward). He appears on their albums "Grand Opening And Closing," and "Of Natural History," as well as the "Live" album. He played and recorded with San Jose collective Vacuum Tree Head (also doing percussion first, then as drummer) from 1996 to the early 2000's. In 2006 he formed Mute Socialite, an angular no-wavish punk band, in which Moe played drums (and occasional guitar), along with second drummer Shayna Dunkelman, and guitarist Ava Mendoza. They released one album, "More Popular Than Presidents And Generals."

Over the years, Moe has worked with a veritable who's-who of the Bay Area creative music scene, including Gabby Fluke-Mogul, Fred Frith, Ron Anderson (the Molecules, RonRuins, PAK), Tom Nunn, Vacuum Tree Head, Thollem McDonas, Z'ev, Amy X Neuburg, Ava Mendoza, Nurse With Wound, David Slusser, Karen Stackpole, Ches Smith, Michael Evans (God Is My Co-Pilot), Caroline Kraabel & John Edwards (Shock Exchange), Gino Robair, William Hooker, Tom Dimuzio and has performed with all these plus Henry Kaiser, Mark Growden's Electric Pinata, Amy Denio, Jordan Glenn, Telepathic Birds, Feona Lee Jones, Jon Raskin (ROVA), Cheer-Accident and has performed in the sfSoundGroup, Rova::Orkestrova, Terrie Hessels (the Ex), Rhys Chatham (A Secret Rose for 100 guitars) among others.