Monday, June 27, 2005, 8 pm
ODC Theater
3153 17th Street (at Shotwell)
admission $12 ($10 student/senior)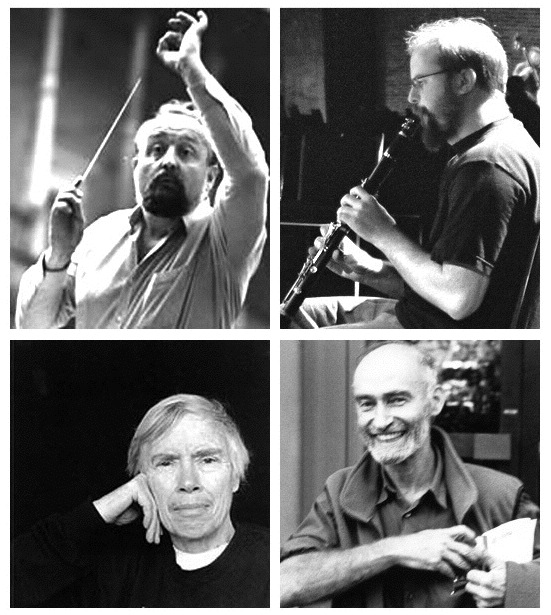 sfSoundGroup presents large ensemble works (both choral and instrumental) from the 1960s emphasizing texture and sound. These composed and semi-improvised works, by Polish avant-garde enfant terrible Krzysztof Penderecki, American experimental music icon Christian Wolff, and California legends Pauline Oliveros and Robert Erickson, find different ways to create rich tapestries of sound. A new premiere by sfSound's own Matt Ingalls rounds out the picture of contemporary concerns for sonic detail.

Program: download concert program [PDF]
Christian Wolff - For Five or Ten People (1962)
Matt Ingalls + sfSoundGroup - Trio Largo (2005)

interval

Robert Erickson - Pacific Sirens for ensemble and tape (1969)
Pauline Oliveros - Sound Patterns for chorus (1961)
Krzysztof Penderecki - Fluorescences for orchestra (1961-62)

Performers:
Lara Bruckmann - voice
Cathryn Hrudicka - voice
Marianne McDonald - voice
Diane Grubbe - flute, voice
Rachel Sher - flute
Tom Bickley - recorder, voice
Kiku Day - shakuhachi, voice
Kyle Bruckmann - oboe, voice
Alicia Byer - clarinet, voice
Matt Ingalls - clarinet, voice, conductor
Jacob Lindsay - clarinet
Scott Rosenberg - contrabass clarinet, voice
Chris Jones - bassoon, conductor
Aaron Bennett - saxophone, voice
Phillip Greenlief - saxophone
John Ingle - saxophone, voice
Jon Raskin - saxophone, voice
David Bithell - trumpet, voice
Tom Dambly - trumpet, voice
Darren Johnston - trumpet
Toyoji Tomita - trombone
Celeste Hutchins - tuba
Scott Looney - piano/percussion
Mike Crain - percussion
Tom Scandura - percussion
Ches Smith - percussion
Moe! Staiano - percussion
Heather Gardner - violin, voice
Marielle Jakobson - violin, voice
Jonathan Segel - violin
Erik Ulman - violin
Jorge Boehringer - viola, voice
Linda Green - viola, voice
Cheryl Leonard - viola, voice
Sally Baack - cello, voice
Lara Cushing - cello
Bob Marsh - cello, voice
Theresa Wong - cello
David Arend - contrabass, voice
George Cremaschi - contrabass
Brian Kane - electric guitar, voice
John Shiurba - electric guitar, voice
Bill Wolter - electric guitar

main | next | concerts | musicians | history | sponsors | contact
Copyright © 2003-2005 sfSoundSeries. All rights reserved.