Monday, January 10, 2005, 8 pm
ODC Theater
3153 17th Street (at Shotwell)
admission $12 ($10 student/senior)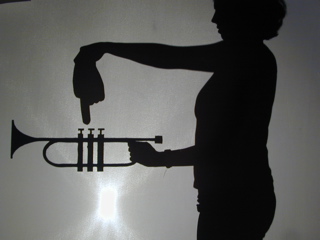 We premiere David Bithell's hour-length work Lumen, part trumpet concerto, part performance art exploration, with electronics, percussionists, and actors. Plus John Cage's classic Imaginary Landscape no. 1 for percussion and electronics, a creative transcription of Anton Webern's Five Pieces for Orchestra for chamber ensemble, and Anthony Braxton's "Ghost Trance Music".
Performers:
David Arend - bass
Eliot Bates - percussion
David Bithell - trumpet
Kyle Bruckmann - oboe
Christopher Burns - trumpet assistant
Sara Gambin - percussion
Andrej Hronco - percussion
ma++ ingalls - clarinet, trumpet assistant
John Ingle - saxophone
Christopher Jones - piano
Pauline Jennings - actor
Angelina Nicole - actor
Aaron Schmookler - artistic direction, Lumen
John Shiurba - electric guitar
Christina Sunardi - percussion
Toyoji Tomita - trombone
Erik Ulman - violin

main | concerts | musicians | history | sponsors | contact
Copyright © 2003-2005 sfSoundSeries. All rights reserved.