BRISTLE
KEN UENO + MATT INGALLS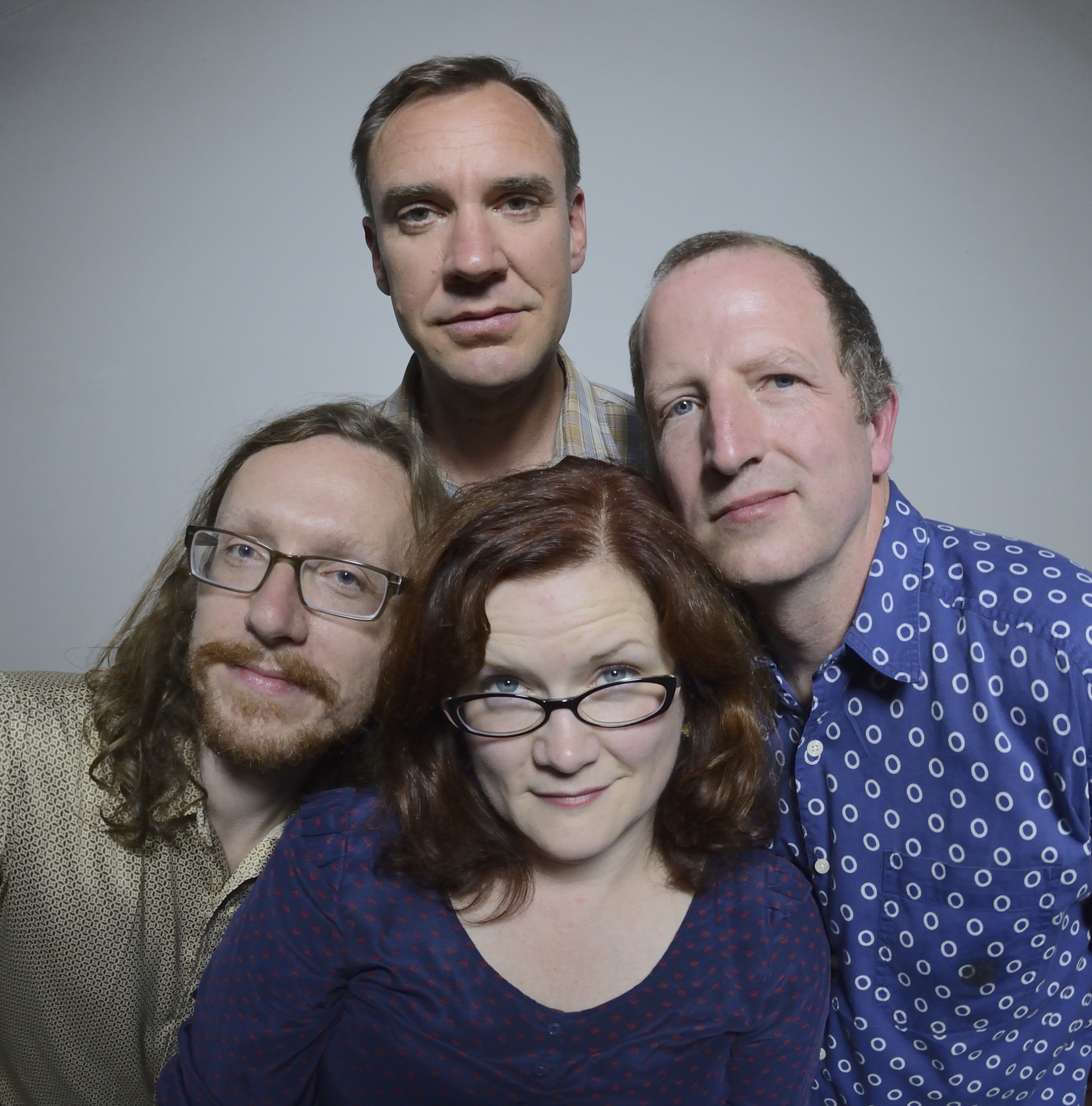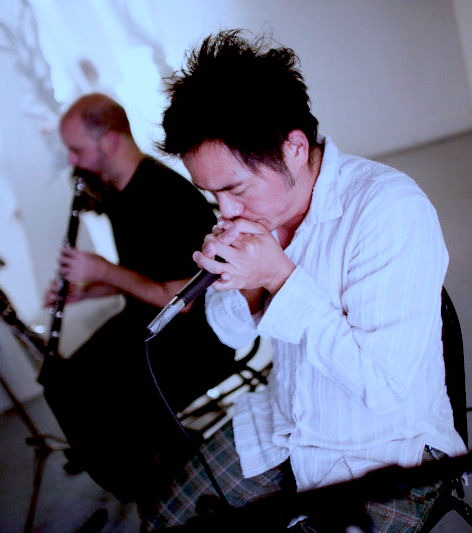 BRISTLE combines an intuitive chamber music sensibility with an off-kilter improvisational approach, seamlessly mixing fierce solo statements with intricate group textures in its pieces. Wheezing accordions, errant looping machines, the kids' game Butts Up, typographic glyphs, Donkey Kong Level 3 (the one with the elevators) and Monty Python's Dead Parrot sketch all serve as inspirations for Bristle's compositions, as does individual members' past work with Anthony Braxton, Yusef Lateef, and Henry Threadgill.

For over a decade, the duo of KEN UENO (vocals) and MATT INGALLS (clarinet) has presented their unique arsenal of extended techniques for an experience that defies classical expectations of sounds that can be made on voice and clarinet. Ueno sings overtones, multi-band multiphonics, sub-tones, and throat sings. Ingalls' clarinet technique includes circular-breathing, multiphonics, and various breath effects, as well as an unique hybrid-timbre polyphonic effect.


M U S I C I A N S
BRISTLE began in 2009 when Randy McKean invited fellow reeds player and composer Cory Wright to form a group to play their original compositions; both share a love of traditional jazz and its experimental, creative offshoots.  Lisa Mezzacappa was drafted to anchor the group on bass, and brought her formidable talents as composer and bandleader to the mix.  The addition of Murray Campbell, with his rare talent of doubling on violin and oboes, gave the foursome an agile, elastic quality that influences the writing and performances of this drummerless quartet.  In addition to its two recordings Future(s) Now(s) (Queen Bee) and Bulletproof (Edgetone), Bristle has performed at venues throughout California and the Northwest, including San Francisco's Center for New Music, Seattle's Racer Sessions, the Eagle Rock Center for the Arts in LA, and Sacramento's In the Flow Festival.

Alto saxophonist/clarinetist RANDY MCKEAN'S music draws upon methods of distillation and synthesis pioneered by composers such as Anthony Braxton and Iannis Xenakis in order to fashion an individualized but systematically coherent musical world.  A multitude of sources inform McKean's work: the abstract expressionist films of Stan Brakhage and the paintings of Mark Rothko, the multi-tiered writings of Julio Cortazar, Alain Robbe-Grillet and Philip K. Dick, concepts from chaos theory and modern physics, all have influenced his use of form and representation.  In addition to Bristle, McKean leads or co-leads several bands, including the African-trance ensemble Tumble, the saxophone quartet Goggle, the sax/drums duos Pac and Seep and TMBR, and the acoustic-electronics duo The Gargantius Effect.  He studied with trumpeter Paul Smoker and composers Anthony Braxton and David Rosenboom. He has lived and worked in the San Francisco Bay Area and New York City, and since 2002, he has lived in Grass Valley, California, located in the foothills of the Sierra Nevada.

Reeds player and composer CORY WRIGHT studied music at Oberlin Conservatory and the University of Southern California and has been involved in both the jazz and creative music worlds for the past 20 years, including time spent in New York, Los Angeles and his current home in the San Francisco Bay Area. His recent projects reflect his interest in blurring the distinction between composed and improvised music, and in combining the harmonious with the atonal, the grooving with the arrhythmic. Wright has performed in ensembles led by Anthony Braxton, Vinny Golia, Todd Sickafoose, Adam Rudolph and Yusef Lateef. He is currently a member of Bristle, the Nathan Clevenger Group, and Goggle (saxophone quartet) and leads his own projects Fellow Hominids and The Green Mitchell Trio.

Berkeley, CA-based composer and bassist LISA MEZZACAPPA has been part of California's vibrant music community for nearly 20 years. Her activities as a composer and ensemble leader include ethereal chamber music, electro-acoustic works, avant-garde jazz, music for groups from duo to large ensemble, and collaborations with film, dance, and visual art. Recent projects include Cosmicomics, a suite for electro-acoustic jazz sextet based on Italo's Calvino's stories about the cosmos; Organelle, a chamber work for improvisers grounded in scientific processes; Glorious Ravage, a song cycle for large ensemble and films drawn from the writings of Victorian lady adventurers; and Touch Bass, a collaboration with choreographer Risa Jaroslow for three dancers and three bassists. She also co-leads the community improvisation ensemble, the duo B. Experimental Band, with drummer Jason Levis, and is creating the serial audio opera The Electronic Lover in collaboration with writer Beth Lisick.

Well-versed in the traditional fiddle styles of his native Scotland, MURRAY CAMPBELL is equally adept as an oboist and cor anglais specialist in the European classical music tradition. As an oboist he performs regularly with numerous Northern California symphony orchestras including North State, the Auburn Symphony and InConcert Sierra.  Campbell's work in the experimental world began as a member of the Church of Sonology in the Netherlands, and has included stints with Lisa Mezzacappa's Interlopers, the duo B. Experimental Band, guitarist Han-Earl Park, and the acoustic-electronics duo The Gargantius Effect. Currently living in the Sierra Foothills of Nevada County, CA, Campbell is a member of the Euro Cafe band Beaucoup Chapeaux and the Balkan mini-orchestra Chickenbonz.

A recipient of the Rome Prize and the Berlin Prize, KEN UENO is a composer/vocalist/sound artist who is currently a Professor at UC Berkeley, where he holds the Jerry and Evelyn Hemmings Chambers Distinguished Professor Chair in Music. Ensembles and performers who have played Ken's music include Kim Kashkashian and Robyn Schulkowsky, Mayumi Miyata, Teodoro Anzellotti, Aki Takahashi, Wendy Richman, Greg Oakes, BMOP, Alarm Will Sound, Steve Schick and the San Francisco Contemporary Music Players, the Nieuw Ensemble, and Frances-Marie Uitti. His music has been performed at such venues as Lincoln Center, the Kennedy Center, the Metropolitan Museum of Art, MusikTriennale Köln Festival, the Muziekgebouw, Ars Musica, Warsaw Autumn, Other Minds, the Hopkins Center, Spoleto USA, Steim, and at the Norfolk Music Festival. Ken's piece for the Hilliard Ensemble, Shiroi Ishi, was featured in their repertoire for over ten years, with performances at such venues as Queen Elizabeth Hall in England, the Vienna Konzerthaus, and was aired on Italian national radio, RAI 3. Another work, Pharmakon, was performed dozens of times nationally by Eighth Blackbird during their 2001-2003 seasons. A portrait concert of Ken's was featured on MaerzMusik in Berlin in 2011. In 2012, he was a featured artist on Other Minds 17. In 2014, Frances-Mairie Uitti and the Boston Modern Orchestra premiered his concerto for two-bow cello and orchestra, and Guerilla Opera premiered a run of his chamber opera, Gallo, to critical acclaim. He has performed as soloist in his vocal concerto with the Boston Modern Orchestra Project in New York and Boston, the Warsaw Philharmonic, the Lithuanian National Symphony, the Thailand Philharmonic Orchestra, and with orchestras in North Carolina, Pittsburgh, and California. Ken holds a Ph.D. from Harvard University. A monograph CD of three orchestral concertos was released on the Bmop/sound label. His bio appears in The Grove Dictionary of American Music.

Reviled for his "shapeless sonic tinkering" by the Los Angeles Times, Oakland musician MATT INGALLS is a composer, clarinetist, concert producer, and computer music programmer. Often incorporating elements of improvisation, his music is heavily influenced by his long involvement in computer music. His composerly solo improvisations explore extended clarinet techniques that interact with the acoustic space, often as combination tones. Matt is the founder and co-director of sfSound, a new music series, ensemble, and internet radio station devoted to new ideas and traditions of experimental music, performance art, live electronic music, Bay Area composition, and the various facets of contemporary improvisation.