sfSoundFestival
[ NOTATIONS | ORIENTATIONS ]
experimental music 1938 to the present

gray area grand theater
2665 mission st san francisco

$15 [$10 underemployed] each concert
$30 festival pass
underemployed tickets only available at the door
box office/doors open one hour before concert start time

PURCHASE TICKETS

< back
---
FRIDAY JULY 8 2016 9PM
[doors 8pm]
---
PROGRAM

JOHN CAGE - Cartridge Music (1960)


KYLE BRUCKMANN + TOM DAMBLY + TOM DJLL + MATT INGALLS + JON LEIDECKER
amplified small sounds

more info

Cartridge Music is one of the most important works in Cage's investigation of musical performance with live electronics. At a time when most electronic music was created in the confines of a few studios with the intention of presentation via tape or disc, Cage pursued an approach that we know today as "homebrew," "hacking," or "making." Cage (together with colleagues, especially David Tudor) used, combined, and modified inexpensive and off-the-shelf electronic components and devices, with an eye towards creating transforming sound live and onstage.

The title of Cartridge Music refers to phonograph cartridges - the basic idea of the piece is to amplify and transform very quiet sounds using modified turntable pickups and other contact microphones. The performers choose objects to insert into the cartridges, replacing the needles; these objects are then rubbed, struck, and manipulated in performance.

Like other works from the late 1950s and early 1960s (especially Fontana Mix and the Variations series), Cartridge Music's graphic score is more a generalized tool for making compositions than a fixed approach to performance; each performer creates a specific sequence of actions and timings based on Cage's instructions. This highly flexible and variable approach means that various performances of Cartridge Music can be radically different from one another in texture and scope.

JOHN CAGE (1912 - 1992) left Pomona College early to travel in Europe (1930-31), then studied with Cowell in New York (1933-4) and Schönberg in Los Angeles (1934): his first published compositions, in a rigorous atonal system of his own, date from this period. In 1937 he moved to Seattle to work as a dance accompanist, and there in 1938 he founded a percussion orchestra; his music now concerned with filling units of time with ostinatos (First Construction (in Metal), 1939). He also began to use electronic devices (variable-speed turntables in Imaginary Landscape no. 1, 1939) and invented the 'prepared piano', placing diverse objects between the strings of a grand piano in order to create an effective percussion orchestra under the control of two hands. He moved to San Francisco in 1939, to Chicago in 1941 and back to New York in 1942, all the time writing music for dance companies (notably for Merce Cunningham), nearly always for prepared piano or percussion ensemble. There were also major concert works for the new instrument: A Book of Music (1944) and Three Dances (1945) for two prepared pianos, and the Sonatas and Interludes (1948) for solo prepared piano.

During this period Cage became interested in Eastern philosophies, especially in Zen, from which he gained a treasuring of non-intention. Working to remove creative choice from composition, he used coin tosses to determine events (Music of Changes for piano, 1951), wrote for 12 radios (Imaginary Landscape no. 4, also 1951) and introduced other indeterminate techniques. His 4'33" (1952) has no sound added to that of the environment in which it is performed; the Concert for Piano and Orchestra (1958) is an encyclopedia of indeterminate notations. Yet other works show his growing interest in the theatre of musical performance (Water Music, 1952, for pianist with a variety of non-standard equipment) and in electronics (Imaginary Landscape no. 5 for randomly mixed recordings, 1952; Cartridge Music for small sounds amplified in live performance, 1960), culminating in various large-scale events staged as jamborees of haphazardness (HPSCHD for harpsichords, tapes etc, 1969). The later output is varied, including indeterminate works, others fully notated within a very limited range of material, and pieces for natural resources (plants, shells). Cage also appeared widely in Europe and the USA as a lecturer and performer, having an enormous in influence on younger musicians and artists; he wrote several books.
KRZYSZTOF PENDERECKI - Actions for Free Jazz Orchestra (1971)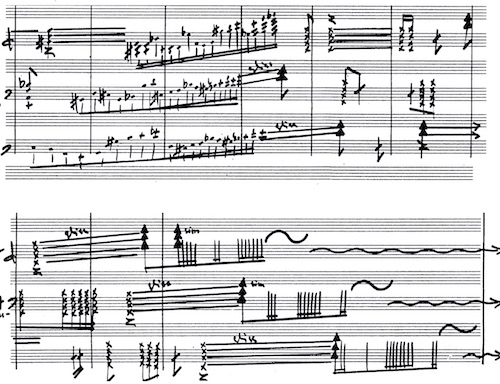 DIANE GRUBBE, flute . KYLE BRUCKMANN, oboe . MATT INGALLS, clarinet and bass clarinet
JOSHUA ALLEN, tenor saxophone . JOHN INGLE, alto saxophone
TOM DAMBLY, trumpet and flugel horn . TOM DJLL, trumpet . THEODORE PADOUVAS, trumpet and piccolo trumpet
BRENDAN LAI-TONG, trombone . ANNE RAINWATER, organ . JASON LEVIS, percussion
GIACOMO FIORE, guitar . JOHN SHIURBA, bass guitar
MONICA SCOTT, cello . SCOTT WALTON, contrabass

more info

Actions was premiered at the 1971 Donaueschingen Music Festival by the New Eternal Rhythm Orchestra, lead by trumpeter Don Cherry with an all-star cast including Manfred Schoof, Kenny Wheeler, Paul Rutherford, Peter Brötzmann, Fred van Hove, Han Bennik, among others. Donaueschingen had already played a vital role in Penderecki's earlier career: it was here where the young Polish composer established himself as part of the international avant-grade with his 1960 orchestral work, Anaklasis. Attending the festival in 1967, Penderecki heard Alexander von Schlippenbach's free jazz ensemble, the Globe Unity Orchestra and was inspired to compose a work for a similar ensemble. What resulted was Actions. The title refers to the traditionally-notated gestures, or "actions", that musicians are then asked play and use for their improvisations.

Of course, many composers of music from the classical tradition have translated elements from jazz into their compositions before and after Actions, but perhaps what makes this work pioneering is that Penderecki allows improvisers to contribute as much of their own music to the performance as Penderecki's. The liner notes from the original 1973 LP states that "for the first time, we see the renunciation of usual orchestra musicians for 'Jazz-Imitations' by a serious composer and the successful introduction of Jazz musicians for the presentation of his work — a long step overdue."

KRZYSZTOF PENDERECKI is one of the best known, most listened to, and most popular composers of the late twentieth and early twenty-first centuries. He first achieving fame with astringent, often anguished, scores such as as his Threnody for the Victims of Hiroshima (1960) and Passion According to St. Luke (1965). Stretching traditional harmonic language, these works used extended orchestral techniques such as quarter-tone clusters, glissandi, whistling harmonics, and unusual string bowings. Since the mid-1970s, Penderecki has followed a personal imperative in moving toward more conventional tonal music, described by some as Neo-Romanticism.
IANNIS XENAKIS - Charisma (1971)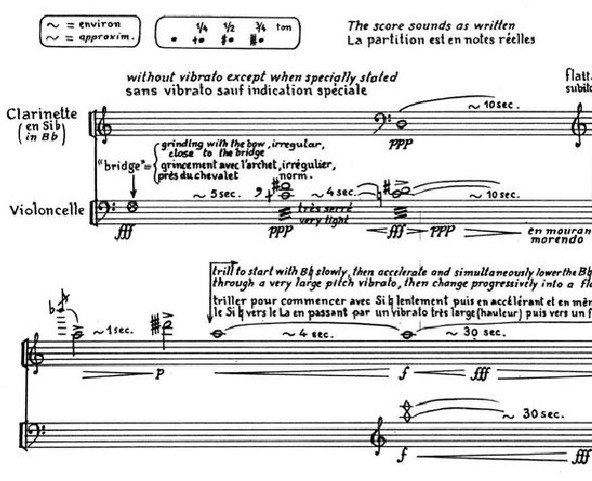 MATT INGALLS, clarinet . MONICA SCOTT, cello

more info

Xenakis's Charisma, a work of raw and elemental energy, was written as a short intense tribute to the young French composer Jean-Pierre Guézec, of whom Xenakis was very fond. A line from The Iliad is printed on the title page: "...then the soul like smoke moved into the earth, grinding." Trained in mathematics and architecture, Xenakis frequently used mathematical processes to discover patterns and communicate musical ideas, creating a totally unique musical vocabulary.

IANNIS XENAKIS (1922-2001) was a Greek modernist composer, musical theoretician, and architect. He participated in the Greek Resistance during World War II, suffering from a severe face wound from a British army shell which resulted in the loss of eyesight in one eye. Escaping a death sentence, he fled under a false passport to France in 1947. In Paris he became a member of Le Corbusier's architectural team. Xenakis produced his first musical work (Metastasis) in 1954, basing it on the design for the surfaces of the Philips Pavilion Corbusier was building for the Brussels Exposition of 1958. In ensuing works he moved on to find mathematical and computer means of handling large numbers of events, drawing on Gaussian distribution (ST/ 10, Atrées), Markovian chains (Analogiques) and game theory (Duel, Stratégie). Other interests were in electronic music (Bohor), ancient Greek drama (used in several settings) and instrumental virtuosity (Herma, Nomos alpha). His later output, chiefly of orchestral and instrumental pieces, is large — many works from the mid-1970s onwards striking back against modernist complexity with the use of ostinati and modes suggestive of folk music.
JAMES TENNEY - Critical Band (1988/2000)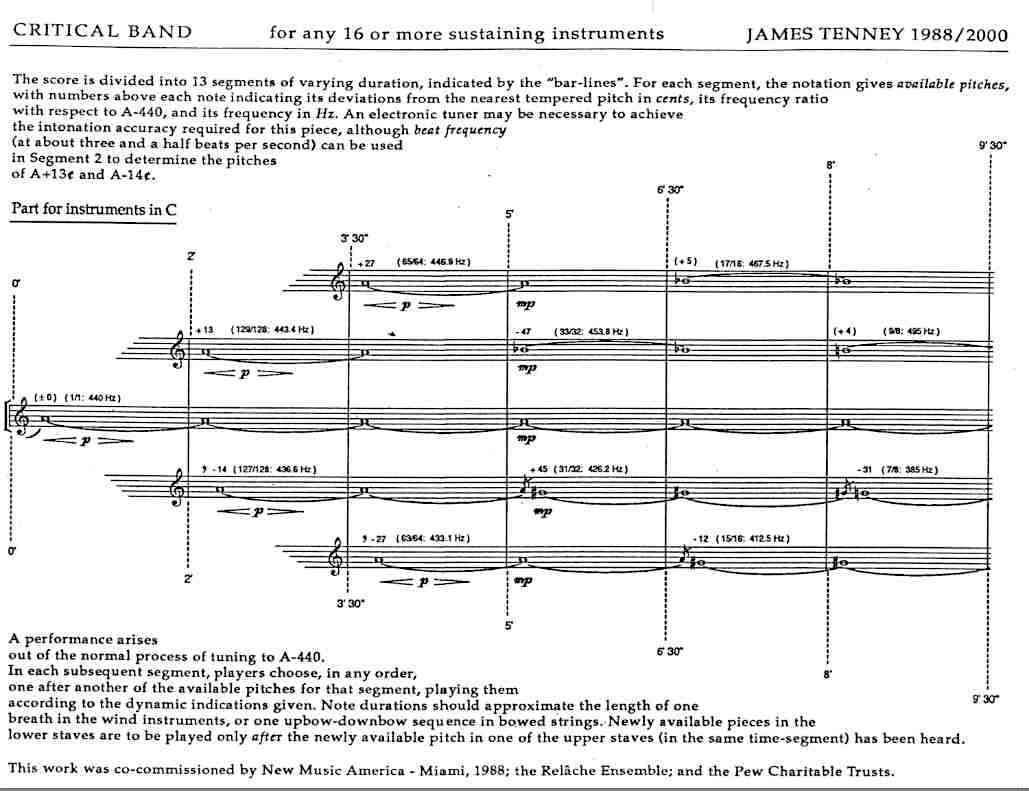 TOM BICKLEY, recorder . DIANE GRUBBE, flute . KYLE BRUCKMANN, oboe
PHILLIP GREENLIEF + MATT INGALLS + JOHN MCCOWEN, clarinets
JOHN INGLE, alto saxophone . THEODORE PADOUVAS, trumpet . BRENDAN LAI-TONG, trombone
LUCIE VÍTKOVÁ, accordion . JASON LEVIS, marimba . GIACOMO FIORE, guitar
BENJAMIN KREITH + ERIK ULMAN, violins . MONICA SCOTT, cello . SCOTT WALTON, contrabass
more info

James Tenney is well-known in academic circles for his groundbreaking work bridging the fields of music composition, acoustics, and sound cognition. Many of his works tackle a scientific principle or problem, using it as the conceptual foundation for an aesthetic experience. He is perhaps best known in this regard for his pioneering employment of computer tools for both sound production and compositional decision-making, a practice he most likely began after an early start in the early '60s to his professional career at the famed Bell Laboratories. A number of his works entrust such acoustical and artistic experimentation to live performers and acoustic instruments. Perhaps the best known of these is Critical Band, a work from 1988 for chamber ensemble of variable instrumentation. It demands an incredible level of accuracy in intonation and consistency from the performers in its exploration of the way the human ear responds to sustained sounds.

This work takes its title from a term with both physiological and acoustic meaning. Within the human ear there is a long ribbon of tissue known as the basilar membrane, which is tapered, so that one end is thicker or wider than the other. When a low frequency enters the ear, a particular point near the wider end of the basilar membrane is set into vibration; a higher sound excites a point near the thinner end; the nervous system detects the area on the membrane being excited and translates that into a heard pitch. When two frequencies within a certain proximity of each other enter the ear, however, the points on the membrane which they excite overlap, creating a variety of psychoacoustical effects and interference patterns. The "critical band" refers both to the width of a band on the membrane within which these effects occur, as well as the frequency ranges within which multiple sounded pitches can cause such effects.

Tenney's aim is to explore this phenomenon through a musical practice. The piece centers around a simple tuning of the pitch A, which is sustained by the player and kept unbroken through the use of a digital or tape delay system. Over the course of the 18-minute work other pitches slowly emerge, diverging from the original A by increasingly larger intervals; the most narrow intervals cause only an undulation of the main perceived pitch, but as the range of frequencies widens all sorts of acoustical by-products, including high whistling combination tones, or humming difference tones, emerge from the composite frequencies. Tenney crosses the boundaries separating discrete pitches, and opens our ears to the surprisingly active universe of sounds that can exist within a seemingly static field of sustained tones.

Tenney received a phone call in 1988 from Cage, who, after hearing Mr. Tenney's Critical Band at a conference in Miami, told him: "If that's harmony, I take back everything I ever said. I'm all for it."

JAMES TENNEY (1934-2006) was a link between American mavericks such as Varèse, Partch, Ruggles, and Cage (with whom he worked and studied) and today's sonic experimentalists. Tenney was a pioneer in electronic and computer music, though later in his career he turned to composing almost exclusively for acoustic instruments. He also wrote widely on aspects of musical acoustics, form, and perception. He had held the Roy E. Disney Family Chair in Musical Composition at CalArts since 2000.
JOHANNA BEYER - Music of Spheres (1938)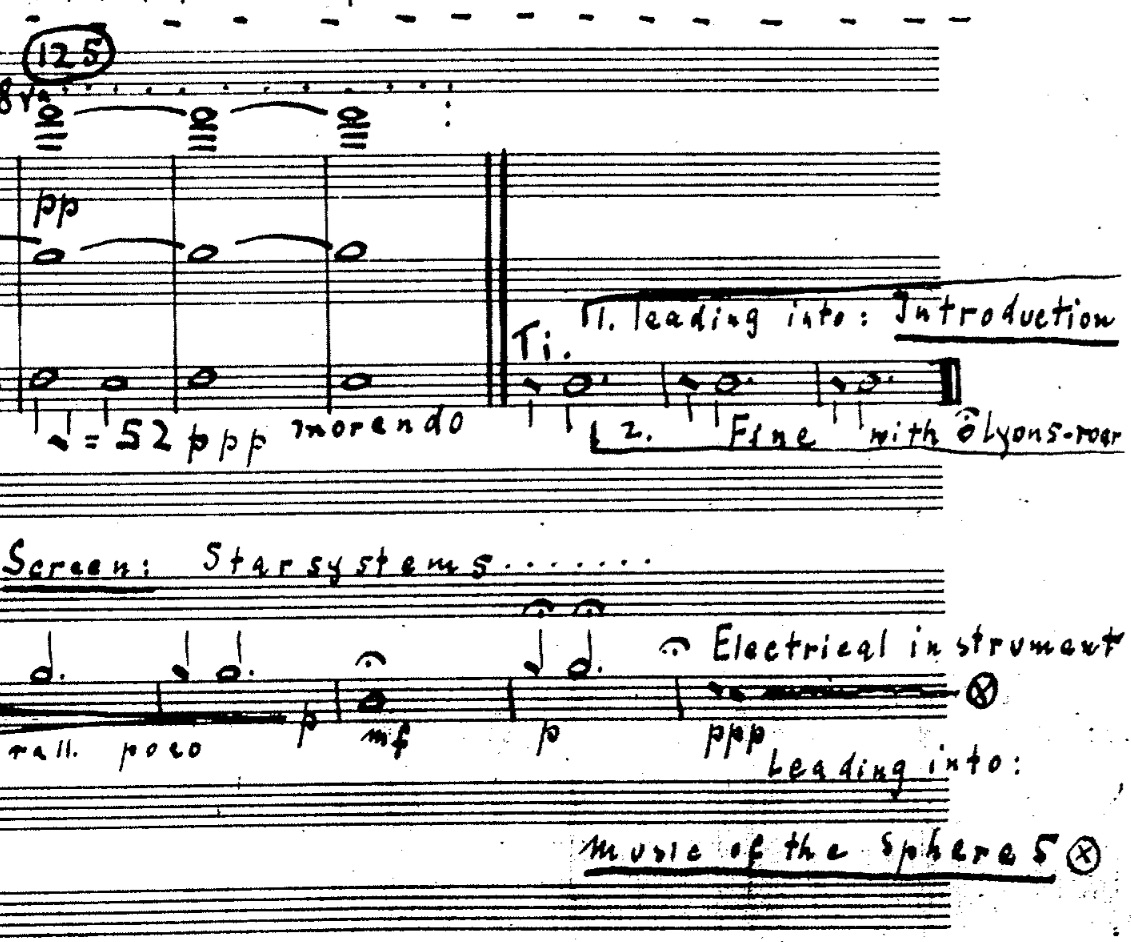 MATT INGALLS + BRENDAN LAI-TONG + MONICA SCOTT, iPads
SCOTT SILER, percussion

more info

Beyer's work includes a wide array of experimental ideas that sometimes resemble those of her colleagues in the 1930's, yet her incorporation of certain processes and techniques is highly individualized. Music of the Spheres was composed in 1938 as an interlude to her unfinished political stage piece Status Quo. Scored for "three electrical instruments or strings" with lion's roar and triangle, it is one of the first composed pieces of electronic music. The electronic parts (played tonight with a custom-designed iPad app) use continuous glissandi, with the tempo a constant accelerando/rallentando. The fascinating combination of acoustic and electronic instruments anticipates by decades this now common practice. Thirty-nine years after it was first composed, Music of the Spheres received its first performance on March 13, 1977 at 1750 Arch Studios in Berkeley, during a recording session for an album on New World Records.

Born in Leipzig in 1888, JOHANNA BEYER came to New York in 1924, at the age of 35. By 1928, she had two degrees from the Mannes College of Music, and began studying with Ruth Crawford, Charles Seeger and Henry Cowell. She earned her living by teaching piano, the profession listed on her death certificate. From 1936 to 1940, during Henry Cowell's imprisonment in San Quentin, Beyer worked as his secretary. Her career ended with her premature death in 1944 (she was only in her mid-fifties - she struggled for years with Amyotrophic lateral sclerosis) - and her music has rarely, if ever, been played in the interim.

Though she was largely ignored as a composer, even by the experimental music community in New York, she did have a number of important performances. The first was at the New School for Social Research in 1933, where her "Three Songs for Soprano, Piano, and Percussion" were performed. A year later, the second movement from her "Suite for Clarinet and Bassoon," performed in one of Henry Cowell's New Music Society of California concerts in San Francisco, was perceived as a "doleful dull duet." Aaron Copland reviewed a New Music Quarterly recording of the movement. John Cage performed two movements of her "Three Movements for Percussion" in his northwestern percussion tours during the late 1930s.
LUCIE VÍTKOVÁ - Piece for Accordion and Tap Shoes (2015)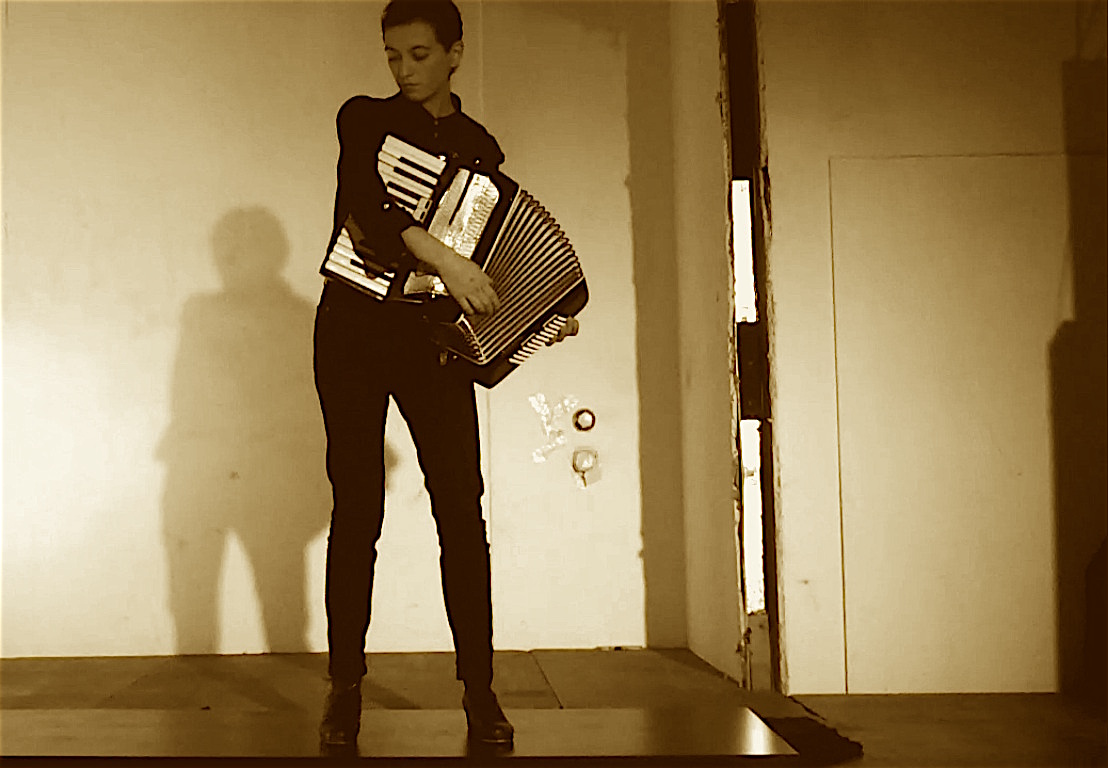 LUCIE VÍTKOVÁ, accordion

more info

Piece for Accordion and Tap Shoes explores the mechanics of the instrument in relation to the kinetics of the body. About the piece, Vítková writes:

"The physical movement is informed by the sound, and the sound by the physical movement. The actions follow each other fluently - sometimes they appear in contrast, and at other times they get stuck in a loop. In recent versions of the piece, I examine the aesthetics of prosthetics and cybernetics. In performance, I transform into a new being, an analog cyborg, made from flesh and sounding objects."

LUCIE VÍTKOVÁ is a composer, improviser and performer (accordion, harmonica, voice and tap dance) from the Czech Republic. Her compositions focus on sonification (compositions based on abstract models derived from physical objects), while in her improvisation practice she explores characteristics of discrete spaces through the interaction between sound and movement. In her recent work, she is interested in the musical legacy of Morse Code and the social-political aspects of music and art in relation to everyday life. She studied at Janáček Academy of Music and Performing Arts in Brno (CZ), Royal Conservatory in The Hague (NL), California Institute of the Arts in Valencia (USA) and at Universität der Künste in Berlin (D). She has studied with professors Martin Smolka, Jaroslav Šťastný, Martijn Padding, Gillius van Bergijk, Michael Pisaro and Marc Sabat. Recently, she is based in New York City and is enrolled at Columbia University as Visiting Scholar with professor George Lewis.
KYLE BRUCKMANN - Following Orders (2014)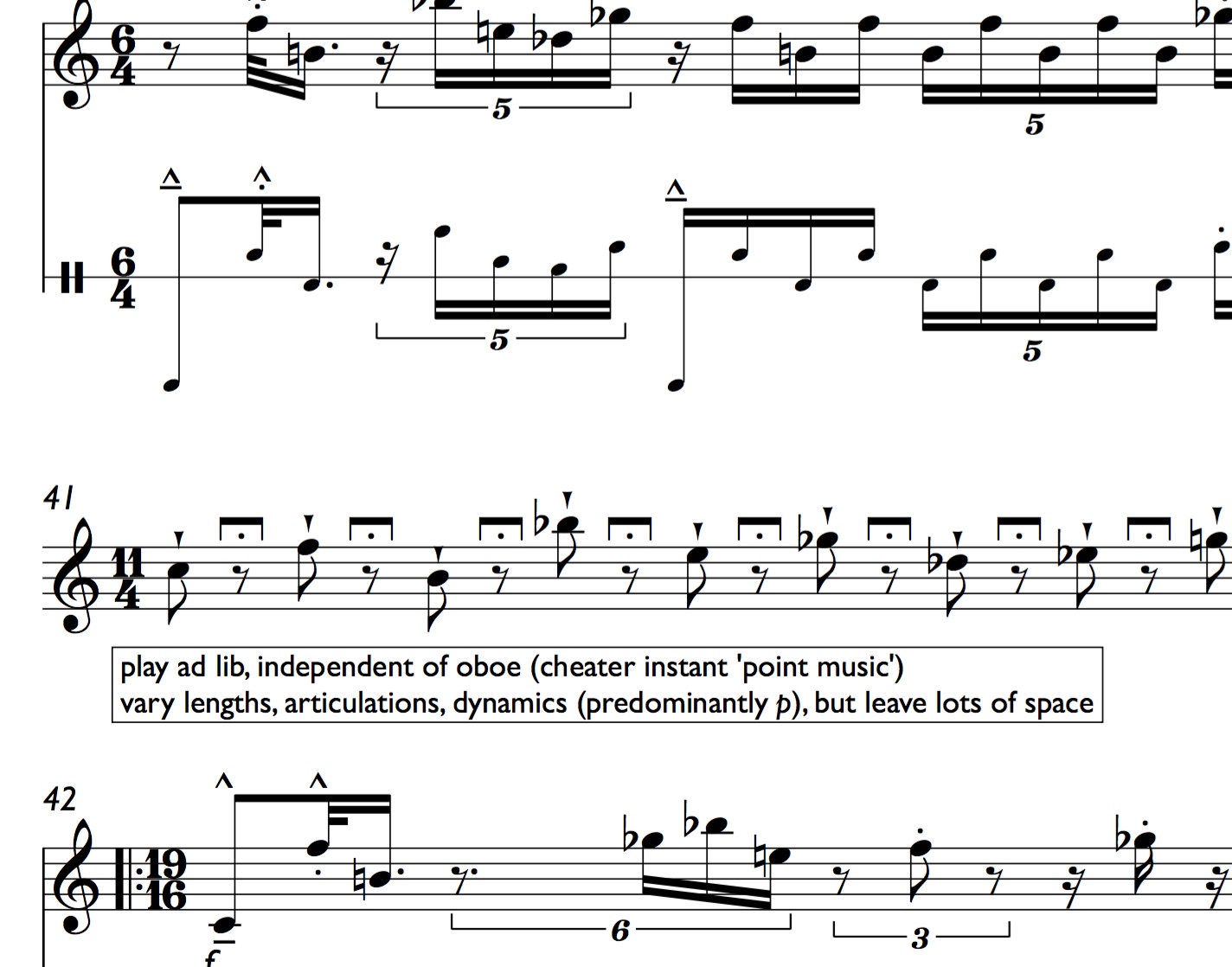 KYLE BRUCKMANN, oboe . MATT INGALLS, bass clarinet . JOHN INGLE, alto saxophone

more info

Kyle composed this piece for the 2014 edition of sfSound's recurring "small packages" program, as a response to Stockhausen's landmark work Kontra-Punkte (1953). About the piece, he writes:

"There's something about the anxiety of the German post-war avant-garde that I find both resonant and unnerving. I can't quite shake the notion that, in advancing a maniacal rationalism in order to distance themselves from the horrors of That Which Had Just Happened, a generation of artists wound up creating solutions not necessarily any more ethically pure than the indulgence of unchecked Romanticism. (I say this with all respect to Herr Stockhausen, and realize that the suggestion likely has him spinning in his grave - or, rather, on his cloud-borne astral throne, as the case may be.)

As a composer/performer, my pieces typically foreground improvisation and prioritize the experience of performers (since they are, after all, invariably my friends and me). I'm also often interested in repetition with infinite variation arising through organic means (phasing loops, human error, whim). Here, however, I'm also challenged by the Spectre of Serialism to explore a fussiness of notation unprecedented in any of my work, in the interest of flirting with unassailability. So: a maddening succession of distinct permutations of 5-11 pitches."

Oboist and composer/performer KYLE BRUCKMANN'S work extends from a classical foundation into gray areas encompassing free jazz, electronic music and post-punk rock. In addition to sfSound, his affiliations include the San Francisco Contemporary Music Players, Eco Ensemble, Splinter Reeds, and Quinteto Latino. He has worked with the San Francisco Symphony and most of the area's regional orchestras while remaining active in an international community of improvisers and sound artists, appearing on more than 60 albums of various genres. From 1996-2003, he was a fixture in Chicago's experimental music underground; long-term projects dating from that era include the electro-acoustic duo EKG, the art-punk monstrosity Lozenge, and the Creative Music quintet Wrack.
MATT INGALLS - Study for Hilbert Transforms (2016)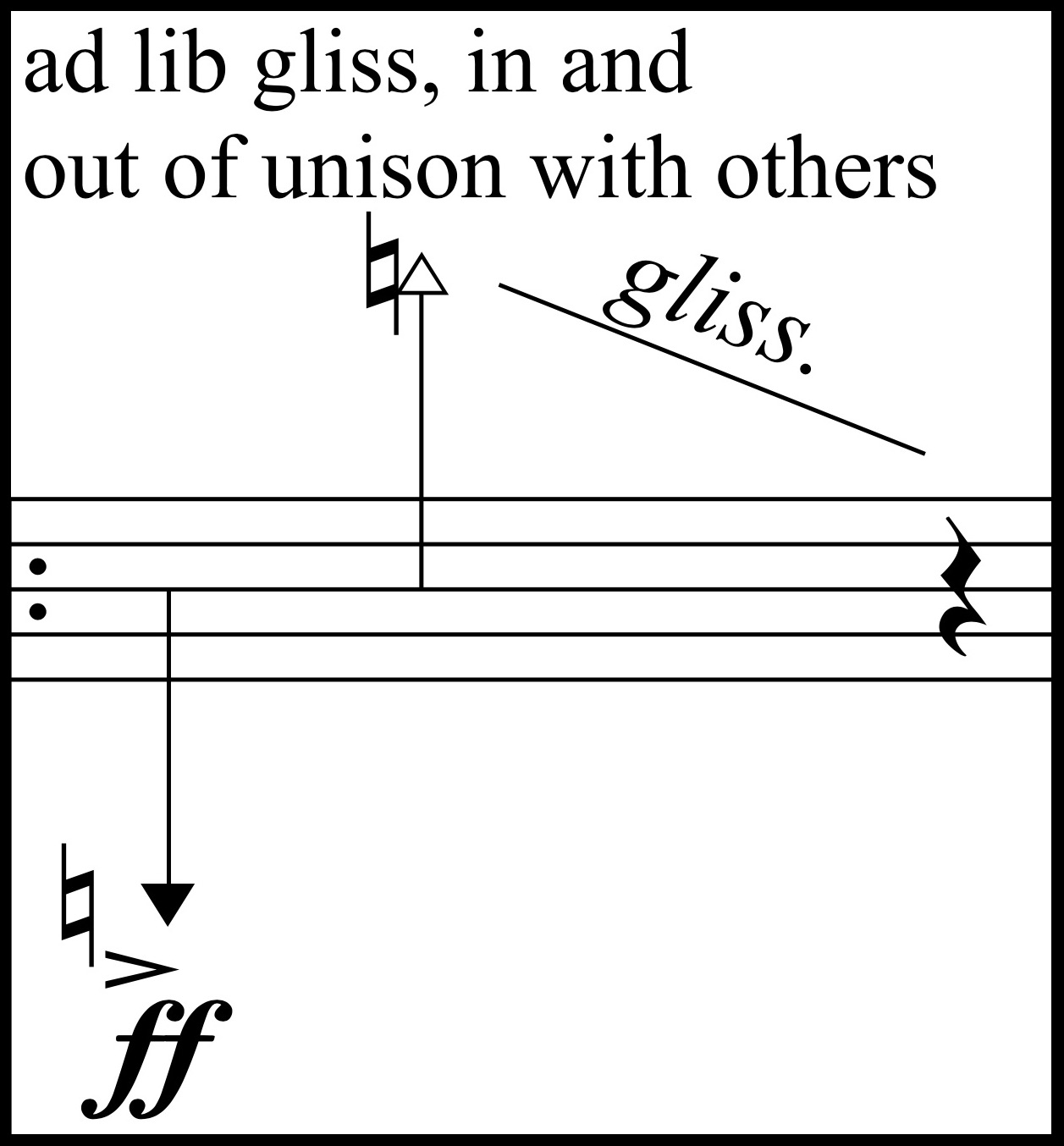 MATT INGALLS, clarinet and bass clarinet . JOHN INGLE, alto saxophone
TOM DAMBLY, trumpet and flugel horn . BRENDAN LAI-TONG, trombone

more info

This short work is a collection of instrumental experiments in preparation for a large work for sfSound, to be premiered on our San Francisco Tape Music Festival in January 2017.

Reviled for his "shapeless sonic tinkering" by the Los Angeles Times, clarinetist, composer, improviser, and computer musician MATT INGALLS is the founder and Artistic Director of sfSound and the San Francisco Tape Music Collective. Often incorporating elements of improvisation, his music is heavily influenced by his long involvement in computer music. His acoustic music is marked by his exploration of extended instrumental techniques that "synthesize" new timbres and interact with the acoustic space, often as combination tones. He received Deuxième Prix, Lauréats des Puys (Catégorie Humour) in the 1994 Concours International de Musique Electroacoustique de Bourges and was the first recipient of the ASCAP/SEAMUS Commission and Recording Prize. A professional software engineer, his audio tools Soundflower and MacCsound have been used widely throughout the world.
SFSOUNDGROUP - Improvisation (2016)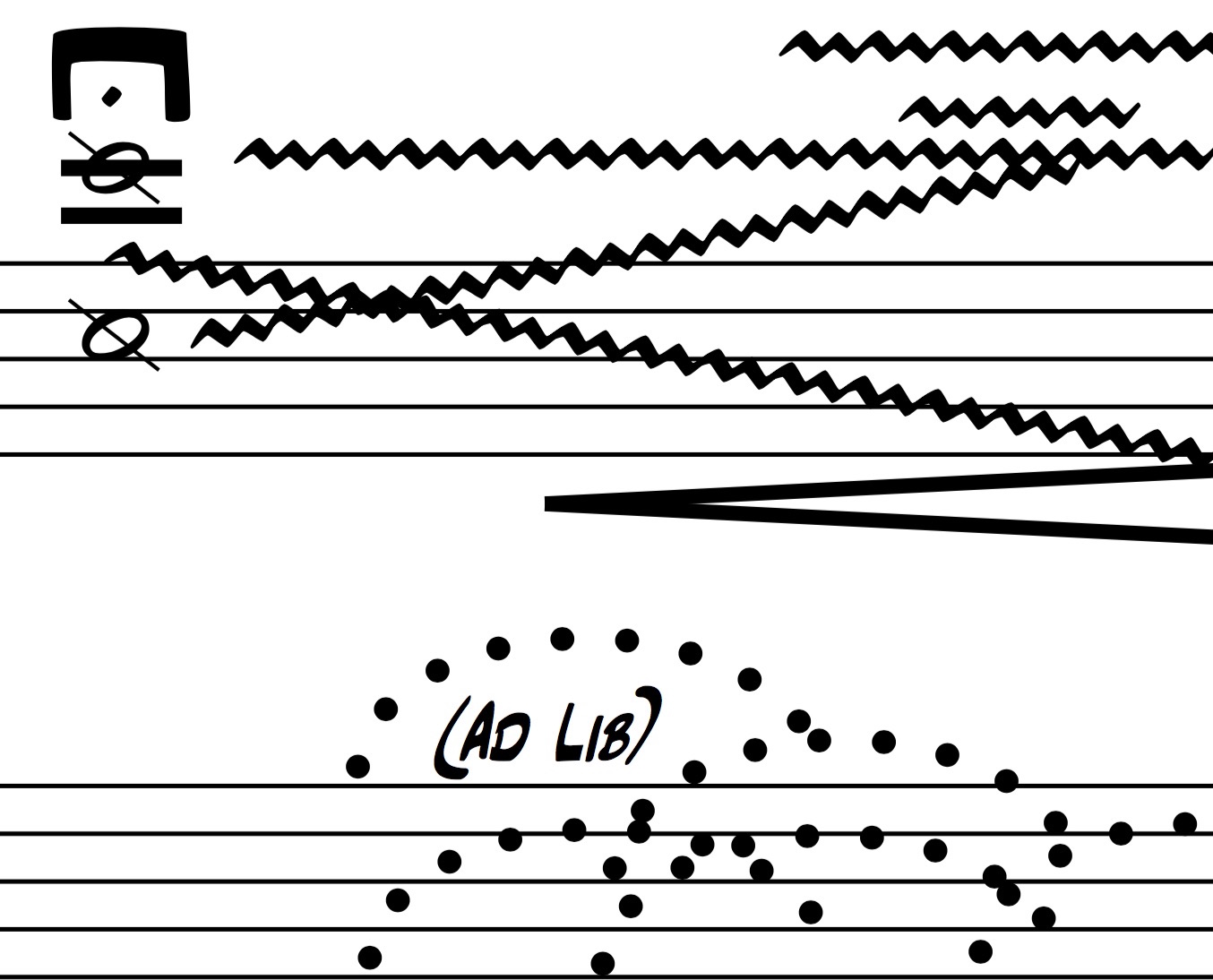 more info

For this concert, sfSoundGroup will perform a free improvisation elided into the end of Matt Ingalls's composition.

Over the past decade, sfSound has emerged as one of the most fiercely innovative contemporary music organizations in the San Francisco Bay Area. Their performing ensemble, SFSOUNDGROUP, creates their our own collaborative works in the context of the avant-garde, from the ivory tower to the underground. Their programs feature original compositions, improvisations, new commissions, and standard New Music repertoire with an international scope and a distinctly West Coast spin -- honoring, and striving to continue, the Bay Area's critical historical role in the development of the American Experimental tradition. Since 2003, their home concert series (sfSoundSeries) has presented a mix of solo, chamber, and large ensemble works, including conceptual and theatrical works and live electronic music, often emphasizing the continuum between notated composition and free improvisation. In addition, they present an annual 3-day festival of tape music (The San Francisco Tape Music Festival), host a 24/7 Internet radio station (sfSoundRadio), and frequently collaborate with other musicians and institutions in various projects.
MUSICIANS


Lucie Vitková, accordion (special guest from Czech Republic)
Diane Grubbe, flutes
Kyle Bruckmann, oboe, english horn and electronics
Phillip Greenlief, clarinet
Matt Ingalls, clarinets and electronics
John McCowen, clarinet
Joshua Allen, tenor saxophone
John Ingle, saxophones and conductor
Tom Dambly, trumpet and electronics
Tom Djll, trumpet and electronics
Theodore Padouvas, trumpet
Brendan Lai-Tong, trombone and electronics
Anne Rainwater, organ
Jason Levis, percussion
Scott Siler, percussion
Giacomo Fiore, guitar
John Shiurba, bass guitar
Benjamin Kreith, violin
Erik Ulman, violin
Monica Scott, cello and electronics
Scott Walton, contrabass
Jon Leidecker, electronics



SATURDAY DETAILS
SUNDAY DETAILS
< back