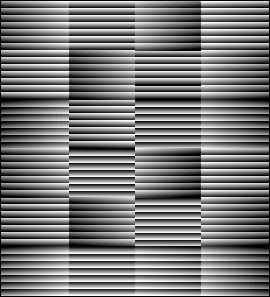 the transparent
tape music festival




Poeme electronique (1957-8) 8'00"
In 1956 a Monsieur Kalff, a director of Royal Philips Electronics, visited the world-celebrated architect Le Corbusier. He had come to ask Le Corbusier if he would be willing to design and create the Philips pavilion for the World's Fair that was to be held in Brussels in 1958. "Suddenly there sprang to my mind, out of the unknown, the notion of an 'Electronic Poem,' " Le Corbusier said later. "A work capable of profoundly affecting the human sensibility by audio-visual means. . . to bring together on the creative level, by means of electronics, speed, number, color, sound, noise, unlimited power." Of course there had to be music; very bold, very special music. "Sounds, noises, unlimited power," Le Corbusier brooded, "a new creation opening all before it. . . . Suddenly I thought of Varese." The director had never heard of Varese. He wanted a gold-plated big-named composer— say Aaron Copeland or William Walton. But Le Corbusier would not budge.

It was late in his career that Varese produced the one 'pure' electronic composition that might be said to realize his dream of a music set free from the crippling forces of tonality. For the Philips Pavilion at the Brussels World's Fair, Varese created the eight-minute Poeme electronique entirely on tape, using a collage of studio recordings, altered piano sounds and bells, and filtered recordings of choral music. All this was encompassed on a three-track tape, created at the Philips studios at Eindhoven, the Netherlands. The work was played back on 450 loudspeakers spread through Le Corbusier's structure so that the music recreated the shape of the building itself. 'In the Poeme, said Varese , 'I heard my music— literally in space— for the first time'. - Herbert Russcol & Alan Rich

Edgard Varese [ additional link] (Paris, France, 1883 - New York, USA, 1965)
felt to an extreme degree the dissatisfaction of his age with the music of the past. He studied with d'Indy at the Schola Cantorum (1903-5) and Widor at the Paris Conservatoire (1905-7), then moved to Berlin, where he met Richard Strauss and Busoni. In 1913 he returned to Paris, but in 1915 he emigrated to New York; nearly all his compositions disappeared at this stage, with the exception of a single published song and an orchestral score, Bourgogne (1908), which he took with him but destroyed towards the end of his life. His creative output therefore effectively begins with Ameriques for large orchestra (1921), which, for all its echoes of Debussy and of Stravinsky's early ballets, sets out to discover new worlds of sound.

His own works of the 1920s and 1930s are more aggressively 'modern'— in respect of the importance of percussion sounds, complexity of rhythm, strident dissonance and freedom from developmental form— than anything else of the period, and even at this time he was looking towards still further liberations than he expected from electronic music. When tape recorders became available, in the 1950s, he created two of the first masterpieces of music on tape, his Deserts (with orchestra) and Poeme electronique.
---
back to program