sfSound presents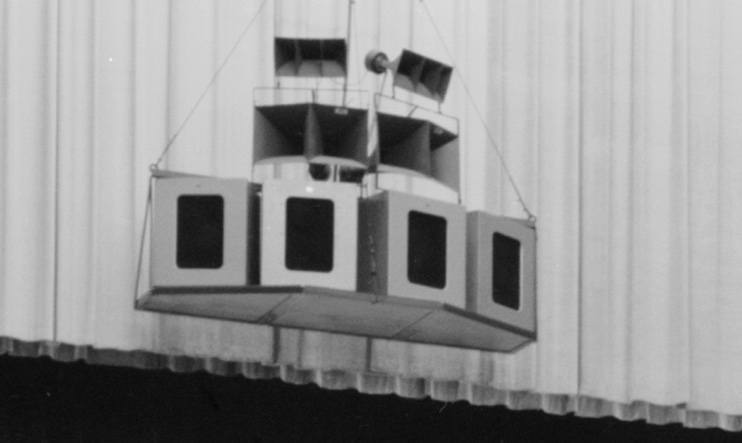 The San Francisco Tape Music Festival 2023

Friday, January 13, 8:30pm program [pdf]
Saturday, January 14, 7:00pm program [pdf]
Saturday, January 14, 9:30pm program [pdf]
Sunday, January 15, 7:00pm program [pdf]

Victoria Theatre
2961 16th Street
San Francisco

$20 general ($10 Sat 9:30 concert)
$10 balcony (underemployed et al.)
$50 fest pass (general seating all concerts)

CLICK HERE for advance ticket purchase

cash and venmo accepted at the door
beginning one hour before start time


---

America's only festival devoted to the performance of audio works projected in three-dimensional space, The San Francisco Tape Music Festival features four distinct concerts of classic audio art and new fixed media compositions by 46 local and international composers. Hear members of the SF Tape Music Collective, along with guest composers, shape the sound live over a pristine surround system (24 high-end loudspeakers) with the audience seated in complete darkness. It's a unique opportunity to experience music forming - literally - around you.

The 2023 Festival remembers composers VANGELIS (1943-2022) and ENNIO MORRICONE (1928-2020), KRZYSZTOF PENDERECKI (1933-2020), ALVIN LUCIER (1931-2021), and JON APPLETON (1939-2022).

Contemporary and classic "fixed media" compositions by international composers will also be featured. Works by GYÖRGY LIGETI, ROBERT FRIPP, FRANCIS DHOMONT, JOSEPH ANDERSON, PANAYIOTIS KOKORAS, ANDREW LEWIS, LEAH REID, FULYA UÇANOK, JOHN YOUNG, the CECIA TEAM, and many others will be projected live through the loudspeaker array.

Bay area artists T.D. SKATCHIT [TOM NUNN (1946-2022) / DAVID MICHALAK], THOM BLUM, JAEHOON CHOI, NATHAN CORDER, MATT INGALLS, JON LEIDECKER, CHERYL E LEONARD, DOUGLAS MCCAUSLAND, KATIE MCCUTCHEON, KRISTIN MILTNER, MAGGI PAYNE, SOUTHEAST OF RAIN, SUDHU TEWARI, and MICHAEL ZELNER will also be presenting their works.

Saturday's 9:30pm concert features late-night-appropriate works that lean towards ambient and long-form-exploration.
P R O G R A M

Friday January 13, 2023 (8:30pm)
ENNIO MORRICONE - Excerpts from Gott mit uns (1970) and L'istruttoria è chiusa, dimentichi (1971)
ALVIN LUCIER - North American Time Capsule (1967)
T.D. SKATCHIT (TOM NUNN/DAVID MICHALAK) - Chairmen of the Skatch (2010)
CHERYL E LEONARD & JON LEIDECKER - Multiple Park (2022)
KRISTIN MILTNER - Meditation on a Rainy Afternoon in January (2023)
NATHAN CORDER - Appetite (2020)
SOUTHEAST OF RAIN - Day 8 Between Fleeting Somethings (2020)
JUNZUO LI - An Ensemble of Time and Scene (2019)
PETER FALCONER - Canch End Morning Radio (2020)
PANAYIOTIS KOKORAS - A.I. Phantasy (2020)
JOÃO PEDRO OLIVEIRA - La Mer Émeraude (2018)


Saturday January 14, 2023 (7:00pm)
VANGELIS - selections from Blade Runner (1982)
KRZYSZTOF PENDERECKI - Psalmus (1961)
JON APPLETON - San Francisco Airport Rock (1996)
MATT INGALLS - poem number two (2023)
SUDHU TEWARI - Transparent Fish (2020)
JAEHOON CHOI - 奇夢 - 기몽 (2019)
SIMON COOVI-SIROIS - Trois Perspectives Sur Une Entropie Positive (2020)
MARCO DIBELTULU - Microclima III (2017)
RYO IKESHIRO - CCCCaaaallllllllOOOOnnnnMMMMeeee (2017)
ANDREW LEWIS - Skyline (2016)
FULYA UÇANOK - Swarming (2020)
BIHE WEN - Beyond (2020)


Saturday January 14, 2023 (9:30pm)
ROBERT FRIPP - Empire (2021)
JON APPLETON - Newark Airport Rock (1969)
THOM BLUM - Three Improvisitions (2022)
KATIE MCCUTCHEON - Quiet Place (2022)
LEAH REID - Reverie (2019)
WEI YANG - a_voi(ce)_d (2021)
JOHN YOUNG - Arioso (2021)
CECIA Team - CECIA Composition (2019)
CECIA (Collaborative Electroacoustic Composition with Intelligent Agents) PANAYIOYIS KOKORAS, MARIAM GVINIASHVILI, JUAN CARLOS VASQUEZ, MARTYNA KOSECKA, ERIK NYSTRÖM, ARTEMI–MARIA GIOTI, & KOSMAS GIANNOUTAKIS

Sunday January 15, 2023 (7:00pm)
GYÖRGY LIGETI - Artikulation (1958)
FRANCIS DHOMONT - Perpetuum Mobile (2019)
JON APPLETON - Chef d'Oeuvre (1967)
MAGGI PAYNE - Through Space and Time (2022)
JOSEPH ANDERSON - the 7 GATES of Thebes (1995)
DOUGLAS MCCAUSLAND - why do you distort your face? (2022)
MICHAEL ZELNER - Confined (2020)
STÉPHANE BORREL - The Lovebirds – The Inspired (2021)
NIKOS KANELAKIS - Spaces and Places (2019)


equipment kindly provided by
The Center for Computer Research in Music and Acoustics (CCRMA) at Stanford University
and sfSound.