Stockhausen composing HYMNEN (ca. 1967) [Photo: Werner Scholz]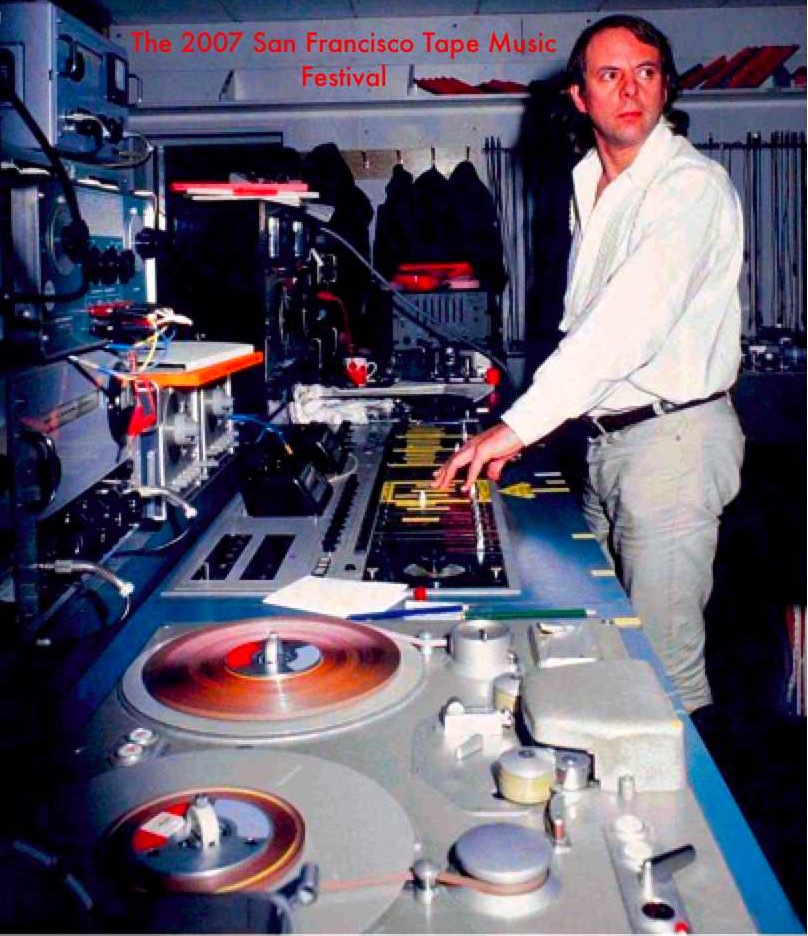 The 2007
San Francisco Tape Music Festival
January 26-28, 2007 8pm
ODC Theater, San Francisco
3153 17th St (@ Shotwell)
San Francisco

$12 [$7 students/seniors/underemployed] each night
$24 [$14 student/seniors/underemployed] for festival pass
Box Office: 415-863-9834 [2pm-5pm, Wed-Sat]
Click here to purchase single tickets online
[ festival passes must be purchased at the box office ]
tapecenter@sfsound.org


send us an email to get on our mailing list!

The 2007 San Francisco Tape Music Festival returns to ODC Theater with three distinct programs of audio art over a pristine 16-speaker surround sound system. Seated in complete darkness, experience new and classic compositions by local and international artists, including a world premiere from rock innovator Brian Eno, three classic pieces by György Ligeti, a new multichannel realization of James Tenney's seminal work, "For Ann (rising)", and a rare performance of Karlheinz Stockhausen's epic multichannel work, "HYMNEN".

Featured local composers include Thom Blum, Jen Boyd, MaryClare Brzytwa, Cliff Caruthers, George Cremaschi, Matt Ingalls, Kent Jolly, and Moe! Staiano. These artists' development of sound diffusion as a compositional technique creates an immersive sonic experience unique in the Bay Area. Come and enjoy this cutting edge art form at its best.


SF Classical Voice: "mind and ear expanding"
Computer Music Journal: "a rich and flowing sonic environment"
California Report: "crazy quilt collages of found sound"
SF Weekly: "strange and beautiful"
East Bay Express: "cinema for the ear"


Sponsored, in part, by ODC, Goethe-Institut San Francisco, American Composers Forum San Francisco Bay Area Chapter (Subito), The San Francisco Tape Music Collective, and sfSound.




Program

Friday, January 26th, 8pm
[ click here to download program notes ]

Matt Ingalls (Oakland) Fingerlingette (2002)
Jen Boyd (Oakland) Rain Blossom (2006)
Suk-Jun Kim (South Korea) Kotmun (2005)
Thom Blum (San Francisco) Nomen Plaid (2003)
Jason Rabb (Salt Lake City) Hum Vamp (for Snap) (2004)
James Tenney (1934-2006) For Ann (rising) (1969) [ New 15 channel realization ]
-- intermission --
Moe! Staiano (Oakland) Tape Piece No.1: Collapse of Travel and Time (2006)
George Cremaschi (Oakland) Our Blood Was Boiling (2006)
György Ligeti (1923-2006) Pièce Électronique no.3 (1957) | Glissandi (1957) | Artikulation (1958)
Jonty Harrison (UK) Unsound Objects (1995)

Saturday, January 27th, 8pm
[ click here to download program notes ]

Martin Bédard (Canada) Topographie de la noirceur (2005)
Lisa Whistlecroft (UK) Almost Nothing But (Butterflies and Clouds) (2006)
Maximilian Marcoll (Germany) folgesätze #5 (2002)
MaryClare Brzytwa (Oakland) karenv8 (2006)
Sébastien Beranger (France) Le Complexe de la Goutte d'eau (2006)
Cliff Caruthers (Oakland) The House on the Hill (2007)
Martin Stig Andersen (Denmark) Rabbit at the Airport (2006)
-- intermission --
Pete Stollery (UK) scènes, rendez-vous (2006)
Datach'i (Brooklyn) I'm Not Afraid to Watch You Die (2004)
Kent Jolly (Berkeley) Sleep Walker (2007)
Travis Ellrott (Los Angeles) Studies Suite (2006)
Brian Eno (UK) Golden World Premiere (2007 - 8 channels)

Sunday, January 28th, 8pm
[ click here to download program notes ]

Karlheinz Stockhausen (Germany) HYMNEN (1967)
I
II
-- intermission --
III
IV


This festival is part of the sfSoundSeries
A Note from Stockhausen-Verlag:
HYMNEN and CDs of all Stockhausen works
(current catalog contains 86 items, many of which are multiple CDs) may be ordered directly from stockhausen-verlag@stockhausen.org